Outdoor Improvements That Boost Your Home's Curb Appeal
By Zach Edwards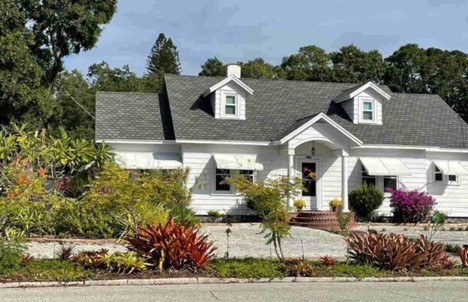 Florida's sunshine makes it easy to attract homebuyers to our state. But it takes more than the weather to attract them to your home. Boosting your property's curb will have buyers and renters flocking to your door. Increase your home's value with these outdoor improvements.
Polish Walkways and Driveways
The first thing anyone sees is your home's appearance. Dirty driveways may not seem like a big deal, but clean ones are noticeable to those looking for their perfect home. Power washing the driveway removes dirt and grease that builds over the year. While you are at it, hose down the front sidewalks and porch.
Replace dirty, moldy outdoor carpeting. Sweep the walk and front steps. Place a clean, crisp welcome mat at the front door.
Spruce Up Your Lawn
Chances are your lawn has one or more blends of warm-season grasses like St. Augustine, Zoysia, Bermudagrass, and Bahia. Keep the lawn trimmed and edged. Weed flower beds. Remove straggling grass between cement cracks. Prune bushes and trees away from windows. Tame weeds by applying herbicides which will remove all weeds.
Install Xeriscape
Xeriscaping is an environmentally sound way to reduce water usage. This type of landscaping needs little to no watering, and once established, doesn't need much in the form of maintenance. Xeriscaping in Florida doesn't mean eliminating your lawn. It just means using more rocks, native plants, and hardscapes that enhance your yard's natural landscaping. Native plants suitable for xeriscaping include silver buttonwood, helianthus, gaillardia, coreopsis, and sunshine mimosa.
Advantages of Xeriscaping include:
● Low maintenance
● Less grass to mow
● Minimal amount of water required
● Fewer pests and plant diseases
Add a Splash of Color
Houses always seem to need a few coats of paint, here and there. Paint garage doors, trim, shutters, fencing, and railings. Updating your front door increases the value of the house. Newer doors are more secure, weather-resistant, and energy-efficient. If buying a whole entryway is out of the question, consider replacing hardware and painting the door white (or a bright color) to reflect the heat.
Install Outdoor Lighting
Bright light around your property is welcoming to visitors and lets would-be burglars know that the home is protected from intrusions. Solar sticks and modern lights with energy-efficient LED bulbs are an inexpensive way to brighten up the house's perimeter.
Refresh House Numbers and the Mailbox
Dented mailboxes with chipped paint are easy to see, especially by renters or buyers looking for house addresses. Consider replacing damaged mailboxes. While you're at it, tack some large house numbers on the front door.
Add Personality with Hanging Baskets, Window Boxes, and Container Gardens
Welcome mats, suncatchers, birdbaths, flowerpots … they all add up to a cozy home. If the house has a front porch, buy a rocking chair or swing. Flower baskets and window boxes color up the front of the house, too. Showing off your home's livability potential is a sure-fire way to bring people to the front step.
Elevate Backyard Living
A house in Florida needs a swimming pool! But if your home doesn't have a pool, installing one isn't as simple as digging a hole in the ground. Still, you can purchase an above-ground pool in various sizes and price ranges. Backyard living improvements may include a
● Privacy fence
● Pergola
● Gazebo
● Deck or patio
● Outdoor kitchen or barbecue
● Hardscaped seating
Get smart with Artificial Intelligence that you can control with your cell phone. AI technology products like door locks, window sensors, doorbells, and lighting make life easier.
The improvements will all add to the enjoyment of your home and give you a big return on investment when it comes time to see or rent. Before listing your house, take a closer look at the outside.
Want to know what your home may be worth? Find out now with our Instant Home Value Calculator!
Gitta Sells is here to help you every step of the way. With over 32 years of experience assisting owners to get top dollar for their homes, we are happy to answer any questions you might have, including suggestions on how to increase the resale value of your property. We have in-depth knowledge of the Lake Mary real estate market and surrounding areas. Let's chat! Feel free to reach out at 407-330-2181 or gittasells@gitta.com.
Zach Edwards is a lifestyle and landscape and design writer. He has refurbished a number of older homes and commercial buildings with a focus on spaces for entertaining.
​​