AT HOME WITH LISA-BUYER'S, SELLER'S OR BALANCED MARKET?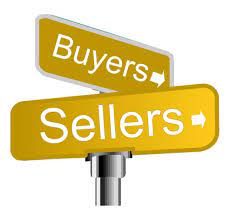 AT HOME WITH LISA- BUYER'S, SELLER'S OR BALANCED MARKET?
Buyer's Market
Buyer's market is more favorable toward the buyer- more inventory, lower prices. This is an ideal situation for a buyer as those looking to sell their home are more willing to negotiate. Buyers usually end up with a great deal as sellers become eager to sell their home and are willing to accept a deal they may have otherwise turned down.
If you're trying to sell your home in a buyer's market, your home may remain on the market longer before you're able to secure a buyer due to the large number of available properties. You may also have to put forth some extra effort to make your home more enticing such as cosmetic updates, boosting curb appeal, or staging your home. If you're not in a huge rush to sell your home you may want to consider holding off for a bit to see if the market shifts.
Seller's Market
A seller's market occurs when there is more demand than inventory, or there are more buyers seeking to purchase homes than there are available homes on the market. This often leads to multiple buyers interested in a single property, resulting in bidding wars. In this case, the seller's agent will usually let the buyer's agent know if other offers have been submitted on the home. Now the seller gets to sit back and choose what they feel is the best offer.
Buying a home during a seller's market can prove to be very frustrating. You may have found the home that you have fallen in love with, but so has 5 other couples. In this case you will most likely have to offer more on the home than the listed price in hopes of submitting the winning offer. The struggle you are facing in a seller's market is that many more people are interested in buying than there are homes being listed for sale. Because of this, as soon as a new home is put on the market there are many more buyers immediately lining up at the door. This mean you need to act fast and be willing to spend more money if you are serious about a home.
Balanced Market
A balanced market is a term used to describe whether or not supply is meeting demand. If a region's market is balanced, it means there is enough demand from buyers to equal the supply from sellers. This means there is no favor leaning towards the buyer or the seller, which levels the playing field for both parties. This is the ideal market for everyone as sellers should get a reasonable amount when selling their home and buyers will usually not have to offer more than what the home is worth. A fair market for everyone.
I'm Lisa Longest with Realty Navigator. I am a full time Realtor® in Anne Arundel and Queen Anne Counties. I am here for all your real estate needs. If you are looking to buy, sell or question me about the market in your area, feel free to contact me. My email is LisaLongest.RE@Gmail.com and cell is 443-786-4200.