Adding Curb Appeal and Raising your Property Value with Lighting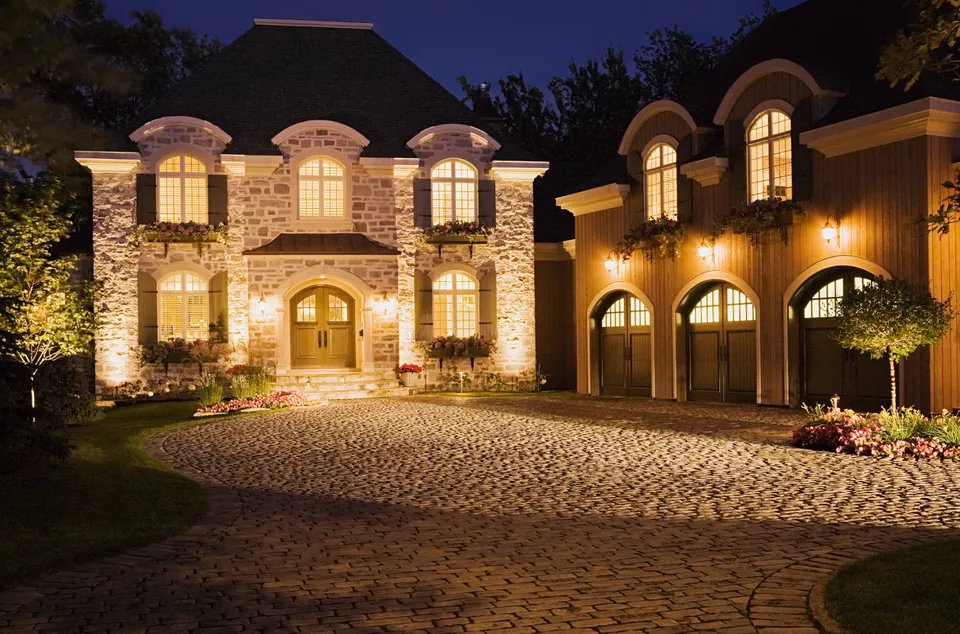 Are you looking to add value to your home or business? Want to increase the asking price when your ready to sell your home?
Consider adding Lighting Curb Appeal
Accenting the exterior of your home or business with lighting is the simplest way to show off the garden space and architecture of your property.
Lighting can provide highlights to the architectural features that already exist by day but somehow lose their luster at night with simple porch style lighting. Your hard work and dedication to the landscaping around your property comes back to life in a different spectrum at night with warm glows and direction light to accent just the right look.
Pathways become a glowing walk way to the rich paradise your property has to feature.
Lighting the exterior of your property adds value! In this current climate of real estate, the nicer your property looks from the outside the better the OFFER will be if selling your home. What if a minimal investment in the exterior of your curb appeal could net you an additional 5 to 10 percent to the offer price, wouldn't that be nice?
Landscape lighting isn't that expensive. Well worth the investment. With so many options available out there you are sure to fine just the right look to enhance the beauty of your property and fall in love all over again.
DIY vs. Pro install –
If you're a do it yourselfer, the creativity is endless but it will be a bit of trial and error. First you have to decide on a budget, then decide where to place the lights for best results, and the do the install based on the type of lighting you want to use. This can be a weekend project and is a lot of fun.
Using Pro-installers is another way to get done fast and just the way you want in as little as 1 day. The benefits of using a professional are that you don't do any of the work and reap all the rewards. They know what they are doing and will suggest the best angles and feature highlights.
Let's talk about the types of lighting. With so many styles and types of lighting to choose from but where do you begin?
I suggest taking these steps first.
1. Decide on the power element Solar or Wired in type of lighting
2. Then choose the energy efficiency bulb style – LED, Standard
3. Next choose placement type – in ground, post, floating, hockey puck, spot, globes etc
4. Decide placement – Driveways, Trees, exterior walls, pathways, decks, gardens, peaks and gables, multi-story dimensional and so on.
Let go by the numbers – 1 choosing the energy pros and cons. If you go solar then the lights have to be free from sun obstruction so that they will charge all day and illuminate by night, this can be great for your energy bill but can also be very tricky to hide. There will be limitations on placement and I have fount that most solar types have a shorter shelf life and will require a bit more maintenance than the hard-wired typ. But after the install its basically free to use!
2. Hard Wired, this will require a bit of understanding of electrical knowledge and will require more work to place, you will need to purchase the correct type of equipment to attach to the power resource of your home and the hide all the elements to make it all work. So digging up the property and drilling holes in concreate may be required to hide the canisters and wires associated with the system, but these types are more reliable and last a lot longer with little maintenance other that replacing a bulb or two.
Note on both – if you're a DIY-er, do your homework on permits and proper install instruction based on the manufacturer's instructions. Understand your power needs and choose wisely, not all wired installs are created equally. If your hiring a pro, don't be over sold. Its their job to get the most out of you for their time and effort. That's ok! You get to make the final decision on how many lights placement and cost, so ask questions, lots and lots of questions.
Step 2. Energy efficiency bulb style - Bulb vs. LED, Standard bulbs are typically the type you place in your porch light and do not stand up to the element as well as other types but are cheap and easy to replace. They have become more reliable and readily available in a mirid of choices and brightness. Choose "Outdoor" rated bulbs for the best success. Theses can be led based and will last longer that traditional bulbs and will require less power to operate than traditional bulbs but you will have to match the bulb thread contact to you selected elements of choice. This may limit your choices a bit. These will also be the go-to for your string lighting elements. You know that long black string outdoor light with the Edison bulbs that look so pretty. Led style of bulbs are bit easier to maintain, are all self-contained units and can be manipulated on brightness, color variance and sometimes offer light show effects – That just made putting up Xmas lights a whole lot easier! They last longer and use significantly less power than traditional bulbs, but are not so readily available at your local store.
Step 3. Placement- This can turn into a huge debate but I will give you a few pointers to start with. First decide what you want to light up. Consider the land scaping trees, bushes or maybe the prized Azealia bush you have been growing sins a little sapling that you love so much. Consider the building typically the forgotten parts that will actually show off the property very well, like the darker corners this adds dimension to the property. Ground up usually looks better than roof down style of lighting. And is easier to hide. Ground up will provide light bounce to light up pathways making it a softer approach to pathway lighting using light refraction.
You will notice that I skipped the placement type- I did so on purpose because you know your property and need better than anyone else, you know weather or not you want to see the light base or not. Weather you want black, silver or copper posts or you don't want to see any of it. It's all available and the choices are virtually endless.
Note from a Realtor - A well-landscaped home has a significant price advantage over a home with no landscaping. This advantage ranges from 5.5 percent to 12.7 percent depending on the type of landscaping and the home's original value. On a typical $300K home that's could be worth $16,500 to as much as $38,100 additional in asking price. Check out this blog I found (Does Landscape Lighting Increase Your Property Value) Of course, this all depends on a few variables. Who installed it, what style its in and number of lights and placement to name a few.