See All Steps to Buying a Home
Buying a home is complicated. Follow this complete guide to get the right advice each step of the way. See All Steps to Buying a Home | Find an Agent & View Homes | Get Home Financing | Make an Offer & Negotiate | Prepare for Closing. How to find exactly what you want, and how to work with the experts who'll help you get it.
So you're thinking about buying your first home. Your very own house (and mortgage). A place to call — and make — your own.
It's a big move, literally and figuratively. Buying a house requires a serious amount of money and time. The journey isn't always easy. It isn't always intuitive. But when you get the keys to your new home — that, friend, can be one of the most rewarding feelings pretty much ever.
The key to getting there? Knowing the home-buying journey. Knowing what tools are at your disposal. And most importantly? Creating relationships with experts who can help you get the job done.
That's where this guide comes in. We'll show you not only the major steps you'll take during the home-buying process, but also explain the relationships and experts you'll need along the way. We've even made a handy infographic that outlines the home-buying process from start to finish.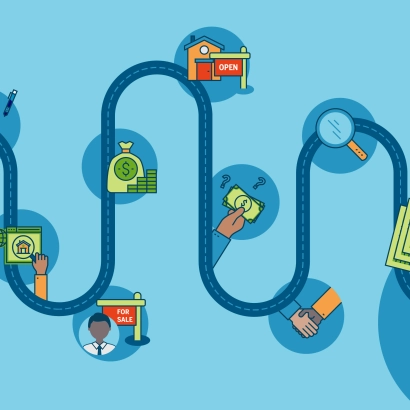 You ready to live the dream? Here we go. Oh sure, everybody wants to jump right into open houses. But before you even set foot into a foyer, you should identify your list of "musts" and "wants." This list is an inventory of priorities for your search. And there's so much to decide: Price, housing type, neighborhood, and school district — just to name a few.
If you're planning to buy a home with a partner (in life or in real estate), fill the worksheet out with them. You want to be on the same page while buying a house. If you're not, you'll be less able to give agents or lenders the information they need to help you. And you risk wasting time viewing homes you can't afford — or don't even want in the first place.
What You Should Really Know About Browsing for Homes Online
It's fun! It's exciting! It's important to take everything with a grain of salt!
Oh, let's just admit it, shall we? Browsing for homes online is a window shopper's Shangri-La. The elegantly decorated rooms, the sculpted gardens, the colorful front doors that just pop with those "come hither" hues.
Browser beware, though: Those listings may be seductive, but they might not be giving you the complete picture. My Button
That perfect split-level ranch? Might be too close to a loud, traffic-choked street. That handsome colonial with the light-filled photos? Might be hiding some super icky plumbing problems. That attractively priced condo? Miiiight not actually be for sale. Imagine your despair when, after driving across town to see your dream home, you realize it was sold.
So let's practice some self-care, shall we, and set our expectations appropriately. My Button
Step one, fill out our home buyer's worksheet. The worksheet helps you understand what you're looking for.
Step two, with that worksheet and knowledge in hand, start browsing for homes. As you do, keep in mind exactly what that tool can, and can't, do. Here's how.
You Keep Current. Your Property Site Should, Too
First things first: You wouldn't read last month's Vanity Fair for the latest cafe society gossip, right? So you shouldn't browse property sites that show old listings.
Get the latest listings from My Button
, which pulls its information every 15 minutes from the
BTW, there are other property listing sites as well, including Redfin, which is a brokerage and therefore also relies on relationships with brokers and MLSs for listings.